March, 2005 through 2007
Does technology belong in our elections? If so, in what form? For what purpose? The international standard for legitimate elections is simple: everyone gets to watch the casting, storage, handling, and counting of votes. In other words, citizen oversight. Experts and computers can't guarantee that elections are honest, but observers can.
before March 2005: Maryland Lessons Learned 2004 , Nov-Dec 2004 , 2003-2004
2005: March , April , May , June , July , August , September , October , November , December
2006: January , February , March , April , May , June , July , August , September , October , November , December
2007: January , February , March , April , May , June , July , August , September , October , November , December
2008: January , February
2009: January , February , March , July , August , September

Don't Miss: HR811/S1487 , Photos , Fraud
Stay informed:
Voting News Blog
Voice of the Voters Radio

Best Web Sites: VotersUnite.org , BlackBoxVoting.org , VerifiedVoting.org , Voice of the Voters Radio , VoteTrustUSA.org
Why democracy and honest government matters--Global Incidents Map

Best Unanswerable Question: "Public servants" are continuing to use electronic voting systems after it has become clear that they don't work reliably. Why aren't there legal consequences for their dereliction of duty and malfeasance?
Best Quote: If we keep applying the values of business rather than the values of democracy, don't be surprised if we end up with an election system that cares only about profit. --Paul Lehto, 6/8/07
=== Fraud ===
Deliver the Vote
Deliver the Vote: A History of Election Fraud, an American Political Tradition--1742-2004, by Tracy Campbell, 2005, published in New York by Carroll & Graf.
18-page condensation of Deliver the Vote, by James Allison

1934, one chapter with details including court transcripts
Election Administration in the United States, 1934, by Joseph P. Harris, Ph.D., available at http://vote.nist.gov/election_admin.htm

Ohio
The Deepening Criminal Cover-Up of Ohio's Stolen 2004 Election Bob Fitrakis and Harvey Wasserman, CommonDreams, Aug. 4, 2007

Confessions of a Republican Operative
How to Rig an Election: Confessions of a Republican Operative, By Steven Rosenfeld, AlterNet, Jan. 17, 2008

=== Photos ===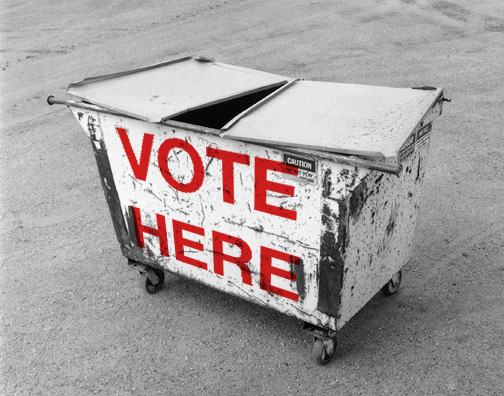 1. Dumpster Voting Device. see Ridiculous UK E-Voting Trial Ends in Disaster, BlogWired, Aug. 6, 2007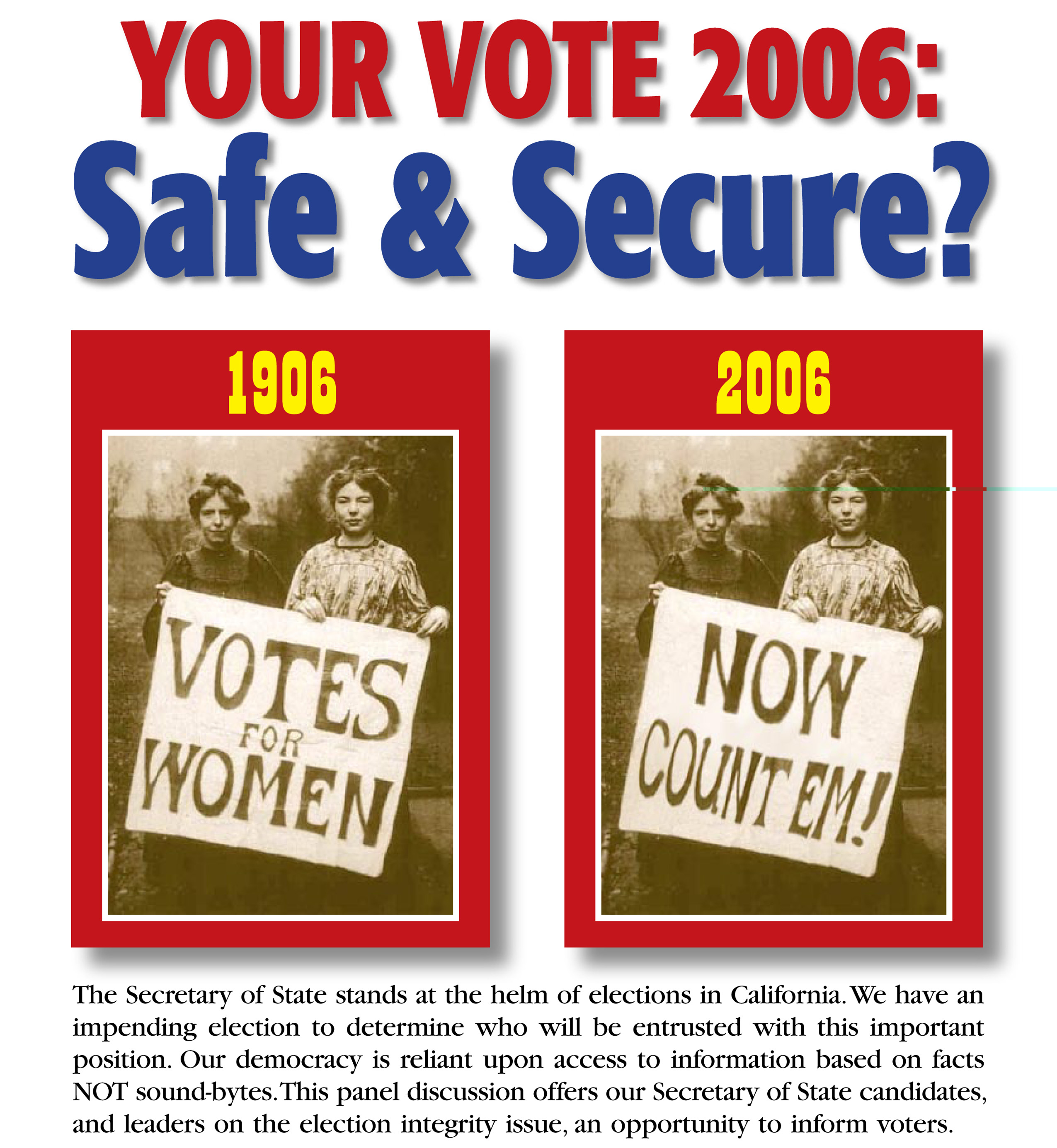 2. Votes for Women, Now Count'em. Full page flyer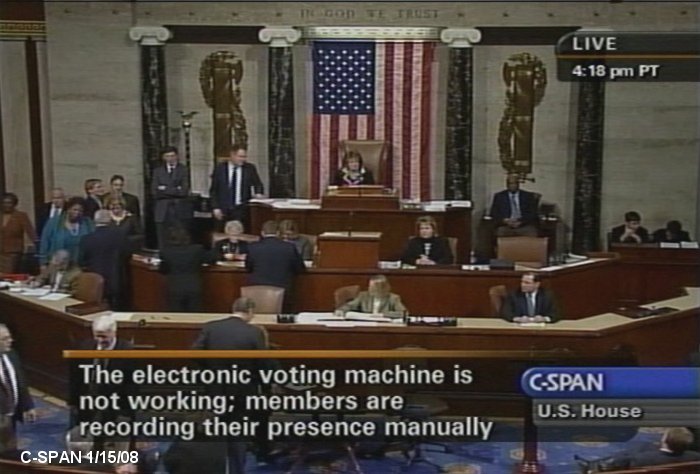 3. US House of Representatives, Jan. 15, 2008
=== September 2009 ===
Stephen Colbert Defines "Paper Ballot"

The Word - Let Freedom Ka-Ching, Colbert Nation, Sept. 15, 2009. Corporations do everything people do except breathe, die and go to jail for dumping 1.3 million pounds of PCBs in the Hudson River. (06:11)
ES&S buys Diebold

Antitrust Complaint by BlackBoxVoting.org to US Dept of Justice, Sept. 25, 2009.
copy of Complaint on BlackBoxVoting.org website
Antitrust Concerns Swirl Around Sale of Diebold Voting Machines, Sept. 14, 2009. Wired, by Kim Zetter. Sen. Schumer asks DOJ to investigate.
US Computerized Voting Market Concentration, The US uses this index to determine whether mergers are equitable to society. By BlackBoxVoting.org
Explantion of Market Concentration Index from wikipedia.org
US Map Pre-merger, from BlackBoxVoting.org
US Map Post-merger, from BlackBoxVoting.org
% of US Electronic Voting Market Share, BlackBoxVoting.org
The Business of Voting Machines, New York Times, Editorial, Sept. 10, 2009
Comment by WheresThePaper.org:
. . . It is unfortunate that the New York Times still doesn't understand that elections are about votes, not software. The only way to get election integrity is to enable observers to watch procedures with votes. Computers prevent that.
. . . It is very nice for people to read and test software, and enjoy business competition, high quality, low cost, and consumer choice and bargaining power, as the New York Times says. But even with all that, computers still prevent observers from seeing and understanding the handling of votes, and there goes citizen oversight of our elections.
. . . Open-source software is a placebo, because no one knows what software is in an evote computer during an election. Hasn't the New York Times noticed the legal and public relations contortions that vendors go through to prevent anyone from examining their equipment after all those "glitches?" Almost all evote computers have wireless communication, and many are loaded with "updates" just before elections. Even New York law, which bans communications capability in evote computers, fails to provide for inspection. California found illegal software in many of their evote computers.
. . . Paper records of each voter's choices are a placebo too, even voter-marked paper ballots, unless they are secured and counted under continuous observation. Here in NY, 97% of our future paper ballots will remain uncounted except by computers. Our law requires only 3% hand-count by people--after as many as 15 days out of public observation.
Diebold Selling US Voting Machine Unit, New York Times, Sept. 3, 2009
Cartoon
ES&S Acquires Premier Election Solutions. This is just wrong on so many levels , Lani Brown, OpEdNews, Sept. 3, 2009
Diebold sells Premiere Election Solutions to competitor ES&S, RawStory, Sept. 3, 2009
History: Senator Hagel Admits Owning Voting Machine Company , Scoop, by Bev Harris, Jan. 31, 2003
Comment by WheresThePaper.org:
. . . Remember the basics? Regardless of technology, election integrity results from openly-conducted procedures that all stakeholders can observe and understand, sufficient to attest that procedures were honest and fairly conducted.
. . . When vote-handling and vote-counting are done in secret behind closed doors, citizens need to object. We need to demand to exercise oversight of election procedures. But no one can exercise oversight if election procedures are inside a computer, and that's why the election integrity movement arose after HAVA encouraged the states to buy electronic voting equipment.
. . . If ES&S acquires Diebold/Premier, one privately-held company will control what we citizens cannot observe. Dictators have bragged about this kind of situation--Anastasio Samoza said "You won the vote, but I won the count." New York City's Boss Tweed said "If I count the votes, what are you going to do about it?" Indeed, the big question is, what are we going to do about computerization of our elections which has effectively shut out all observers, and the fact that one company may soon control our vote?

New York Problems

Right place, wrong ballot: Problems in the 40th CD -- UPDATED, NY Daily News, Sept. 15, 2009
Queens Democratic voters, some are dead, NY Post, Sept. 15, 2009
=== August 2009 ===
Bev Harris of BlackBoxVoting.org on Process Concealment

Process Concealment, BlackBoxVoting.org, Aug. 23, 2009
Diebold

Diebold Quietly Patches Security Flaw in Vote Counting Software, Wired, Aug. 12, 2009
Diebold Financial Picture, Aug. 2009
=== July 2009 ===
Honduras: Computerized Election Results With No Election, July 2009
Honduras: Human Rights Crisis Threatens As Repression Increases, Amnesty International, August, 2009

=== March 2009 ===
German High Court Decision on E-Voting
Decision, March 3, 2009.
Decision on German web site

=== February 2009 ===
New York
Lever Machines and HAVA, New Yorkers for Verified Voting, Feb. 9, 2009
Do Lever Machines Provide a Better Voting System for Democracy, NYVV and LWV NYS, Feb. 9, 2009
Dutchess County Resolution to Keep Lever Machines
=== January 2009 ===
LWVUS Audit Report
Report on Election Auditing, League of Women Voters of the US, January 2009
=== February 2008 ===
Cartoon
Brooke McEldowney Cartoon, Feb. 23, 2008
=== January 2008 ===
Maryland
GOP Figure Contracted to Deliver E-Voting Machines in Maryland, Wired, Kim Zetter, Jan. 16, 2008

DRE, OpScan, and Ballot-Marker Videos
Diebold AccuVote TSX, 7 minutes, California
Encoding the Voter Access Card for the Diebold AccuVote TSX, 8 minutes 29 seconds, California
Diebold AccuVote TSX, 7 minutes 6 seconds, Pasadena, California
Diebold AccuVote TSX , Ohio
Hart Intercivic OpScan, 3 minutes 12 secondsa Model 100/ Automark, Ohio
Diebold TSx, Ohio
Diebold OS, Ohio
ES&S iVotronic, Ohio
Hart eScan and eSlate, Ohio
Microvote, Tennessee

New Jersey
New Jersey's Post-Election Audit Bill: Fact & Friction, Howard Stanislevic, Jan. 4, 2008
Super Tuesday Primary
Super Tuesday is February 5. States conducting primaries are: Alabama, Alaska, Arizona, Arkansas, California, Colorado, Connecticut, Delaware, Georgia, Idaho, Illinois, Kansas, Massachusetts, Minnesota, Missouri, New Jersey, New Mexico, New York, North Dakota, Oklahoma, Tennessee, Utah and West Virginia.
Potential trouble areas: Arkansas which has had past problems in their primaries with ES&S supplying paper ballots on time and without errors.
California which will have problems due to Bowen's actions though many of the problems will be locally manufactured just to prove Bowen wrong.
Colorado which is in a state of flux and will be a problem through November.
Illinois which had problems with ES&S delivering paper ballots and memory cards on time.
West Virginia which again has had problems getting ballots and memory cards from ES&S.

Ohio Election Official Profits from Contract
Franklin County, OH Election Official Pleads Guilty to 'Profiting from Contracts for Voting Machines', but he says he's "very sorry" so his 6-months jail sentence was suspended. Jan. 3, 2008

Paperless Primary States
List of states and primary date, Jan. 21, 2008

Ohio
Secretary of state retreats from some voting changes, Brunner still wants to replace touch screen machines in 57 counties. Dayton Daily News, Jan. 19, 2008
Central counting of votes waived, Brunner still pushing shift from touch screens to scanned paper ballots. Ohio.com, Jan. 19, 2008

LHS repairs machines during elections--are they also "fixing" them?
Who Counts in New Hampshire? And, are Diebold memory cards forgetful? Pokey Anderson interviews Dori Smith, Aired January 13, 2008
CT Voters Count, archive for January, 2008
Diebold Voting Machine Failures Found Across State During New Hampshire Primary, Bradblog, Jan. 12, 2008
Voting Machine Failures During the 2008 Presidential Primary Race, Mark Crispin Miller, Jan. 12, 2008

NH Primary
Index of Bradblog coverage, Bradblog, Jan. 16, 2008
Send Lawyers, Peace and Money': New Hampshire Election Contests Get Technical, Testy Before They Even Begin, Bradblog, Jan. 15, 2008
Dori Smith interview by Pokey Anderson, Jan. 13, 2008
Eternal Vigilance: Not Just for Founding Fathers Anymore, Bradblog, Jan. 14, 2008
Diebold Voting Machine Failures Found Across State During New Hampshire Primary, Bradblog, Jan. 12, 2008
NH Recount Press Release, Secretary of State William M. Gardner, Jan. 11, 2008
NH Municipalities which use the Diebold Accuvote Voting Machine, New Hampshire Secretary of State, as of Nov. 26, 2007
New Hampshire Democratic Primary – Were Votes Counted Accurately?, pdf, Jan. 14, 2008
New Hampshire Democratic Primary – Were Votes Counted Accurately?, Jan. 14, 2008
Experts Question Clinton's New Hampshire Primary Win, By Steven Rosenfeld, Alternet, Jan. 11, 2008
Candidates Push for a N.H. Recount, New York Times, Jan. 11, 2008
New Hampshire to Recount Ballots in Light of Controversy, By Kim Zetter, Jan. 11, 2008
We need to eliminate secret vote counting, not a recount, Democracy for NH, Jan. 11, 2008
Bo Lipari's Blog, New Yorkers for Verified Voting, Jan. 12, 2008
Pre-election "house calls" in NH, Mark Crispin Miller Blog, Jan. 12, 2008
Mark Lindeman, Bard College, Jan. 11, 2008
Kucinich Seeks NH Dem Vote Recount, New York Times, Jan. 10, 2008
Clinton's Win Enriches Bettors Facing 100-to-1 Odds, Bloomberg, Jan. 9, 2008
Chris Matthews: Raw EXIT POLL Data 'Indicated Significant Victory' for Obama in NH, 'Was Ahead an Average of 8 Points, Even in Our Own Exit Polls' Bradblog, Jan. 10, 2008
Tribune Media: MSM Failed to Note 'Hackable Diebold Red Flags' in New Hampshire Primary Results, Syndicated Columnist Robert Koehler Writes 'Possibility of Tainted Results, a Prospect Most of Media Can't Bear,' Notes Problems With NH's Diebold Machines 'Remain Unsolved'. Bradblog, Jan. 9, 2008
NH Data
BostonNow discussion
BlackBoxVoting Investigates: New England voting machine firm executive has criminal record, Democracy for NH, Jan. 9, 2008
NH Primary: Pre-Election Polls Wildly Different Than Results Announced for Clinton/Obama, Bradblog, Jan. 8, 2008
Reports of 'Voter Fraud' in Dixville Notch, Dem Ballots Unavailable to Voters, Both Debunked by The BRAD BLOG, Jan. 8, 2008
The Cat That Controls New Hampshire Election Programming, ChimpsterNation quotes Black Box Voting, Jan. 8, 2008
YouTube video from Black Box Voting: LHS Associate President John Silvestro challenges Finnish computer security expert Harri Hursti during testimony in NH after Hursti's hack of a Diebold optical-scan machine in late 2005 in Leon County, FL.
The Surprising Democratic Primary Results in New Hampshire, compiled by Pokey Anderson, Jan. 9, 2008, OpEd News
New Hampshire Democratic Primary, Poll data
New Hampshire primary 1988: Allegations of voting machine election fraud, Margie Burns blog, Jan. 9, 2008

New Holt Bill
HR 5036, Jan. 17, 2008
A Quick Fix for Electronic Voting, New York Times, Jan. 16, 2008
Proposed new Holt bill was introduced Jan 17, 2008, and will be HR 5036.
Rep. Rush Holt to Push for Paper Ballots and Vote Count Audits for 2008, By Steven Rosenfeld, AlterNet. Dec. 27, 2007.
WheresThePaper's Points: This bill is
1. not an amendment to HAVA.
2. pertains only to jurisdictions that used paperless DREs in 2006.
3. pertains only to federal races.
4. authorizes money:
. . . a. $500 Million to replace paperless DREs. States wanting to replace paperless DREs would get funding for opscans and ballot marking devices and related supplies and equipment.
. . . b. $100 Million to reimburse states for conducting spot-checks, called "audits" at least 3% of precincts.
5. Needs improvements:
. . . a. Observers. Require citizens to be able to observe all ballot handling and counting, not just the spot-check "audit." As written, citizens only get to watch the audit. If the public can view/film the ballots as they are recounted on election night in the poll site, there would be less pressure to pin all our hopes for election integrity on pathetic spot-checks (aka "audits") that take place after ballots have been unobserved and subject to tampering.
. . . b. Machine Malfunction. Require machines to be taken out of service in case of malfunction, which must be defined as vote-switching, machine refusal to accept a vote, discrepancy between screen and VVPAT, missing races or candidates on the screen or VVPAT, etc. As written, voters must convince a poll worker that a machine is malfunctioning, or poll workers must decide whether a machine is malfunctioning.
. . . c. "Audits." Replace the fixed-percentage 3% spot-checks with real audits all ballot-handling of the chain of custody and a variable-percentage audit that yields a fixed high rate of confidence. In the case of paperless DREs, what will be spot-checked?
. . . d. Cost and the EAC. Replace the concept of "reasonable costs" approved by the EAC with approval by NIST or GAO or some other body.
. . . e. Money for Studies. Replace the $3million for study of ballot read-back technology with study of procedures and equipment that to facilitate observability and citizen oversight.

PEW Grants to Election Officials and Academics
The Pew Center on the States and the JEHT Foundation Award $2.5 Million to Improve U.S. Elections, Jan. 16, 2008
Who got what

Uncounted, The Movie
web site
NY Times
Can You Count on Voting Machines?, New York Times, Jan. 6, 2008
NYT Magazine Covers E-Voting, Daily Kos provides evidence that the NY Times ignored.

Who's Who in Evoting? Kudzu Effect
The Kudzu Effect: The Voting-Industrial Complex chokes our democracy, by Sheri Myers, Bob Fitrakis and Harvey Wasserman, Jan. 6, 2007

Common Cause pushes Vote By Mail
Getting it Straight for 2008: What We Know About Vote by Mail Elections, and How to Conduct Them Well . Common Cause supports another way to conceal how ballots are handled and prevent citizen oversight. Are vote selling and coercion real issues with VBM? January, 2007

=== December 2007 ===
California
Election Software Lost in Transit, Wired blog, Kim Zetter, Dec. 19, 2007. San Diego County registrar of voters, Deborah Seiler, is a former sales representative for Diebold Election Systems.
San Diego's Diebold Election Software 'Lost In Transit', BradBlog, Dec. 19, 2007

Ohio
New Ohio Voting Report: "The 2004 Election Was Stolen... Finally We Have Irrefutable Confirmation, Democracy Now! interview with Harvey Wasserman Dec. 17, 2007
Study: Voting Systems Vulnerable, Jennifer Brunner, Ohio Secretary of State, Dec. 14, 2007
Project Everest Evaluation and Validation of Election Related Equipment, Standards and Testing, Dec. 14, 2007
Brunner declares Ohio's voting systems vulnerable, All counties should use paper ballots counted at a central location, secretary of state says, Columbus Dispatch, Dec. 14, 2007
Ohio Elections Official Calls Machines Flawed, New York Times, Dec. 15, 2007
Larry Norden, Brennan Center on Brunner's recommendations, Dec. 17, 2007
Everest: Ohio's Voting System Report, by Dan Tokaji, Dec. 15, 2007