http://cityroom.blogs.nytimes.com/2007/09/24/city-elections-chief-is-stepping-down/
September 24, 2007, 5:23 pm
City Elections Chief Is Stepping Down
<![if !vml]>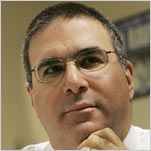 <![endif]>John A. Ravitz (Photo: Ruth Fremson/The New York Times)
The executive director of the New York City Board of Elections, John A. Ravitz, said today that he is stepping down from that position, effective Oct. 12. Mr. Ravitz said he had accepted a position as chief executive of the American Red Cross of Westchester County.
Mr. Ravitz, 47, served as executive director of the board since 2003. Before that, he was an assemblyman and chairman of the Manhattan Republican Party. He served 12 years in the Assembly and did not seek re-election in 2002, after losing a special election for a State Senate seat representing the East Side of Manhattan.
In an interview, Mr. Ravitz said that the Red Cross position "wasn't something I was looking for." He said he had been approached by officials of the organization in the last few weeks. "It wasn't an easy decision for me to make," he said.
The 10 commissioners of the Board of Elections will meet in the next few weeks to discuss picking a new executive director of the nation's largest elections board. It takes the support of at least six of the board's commissioners to select a new executive director.
<![if !supportEmptyParas]> <![endif]>