http://cityroom.blogs.nytimes.com/2007/09/19/touch-screen-voting-a-touchy-issue/
New York Times
City Room
September 19, 2007, 3:11 pm
Watchdogs Want to Block Touch-Screen Voting
<![if !vml]>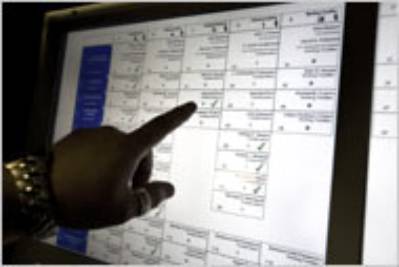 <![endif]>
A touch-screen voting system called Avante was tested at the offices of the New York State Board of Elections in July. (Photo: Gabriele Stabile for The New York Times)
Government watchdog groups are calling on the State Board of Elections to abandon a proposal floated last month to start using some touch-screen voting machines in polling places next year, for use primarily by the disabled. Under the proposal, the vote counting function of the machines would not be used and a paper record would be counted instead.
The commission needs to go back to federal court at the end of the month with a plan to comply with the Help America Vote Act, known as HAVA, and the touch screen machines could be part of the plan to meet accessibility requirements. By using them in the manner proposed, the commission contends it could avoid one of the more controversial aspects of the machines — how they tally votes — and forgo a full certification process. And the move could be a move towards broader use of the machines.
The reliability of touch screen systems has been oft criticized, though, leading states like Florida to abandon them in favor of optical scan machines, which allow voters to mark paper ballots that are then counted by scanning machines. The process leaves a paper trail that remains available for recounts.
"Other states have had endless problems with their touch screen voting machines and are rapidly abandoning multi-million dollar investments in this bankrupt technology," said Bo Lipari, the executive director of New Yorkers for Verified Voting. "Why does the State Board of Elections want to allow these broken machines into our polling places?"
Aimee Allaud of the League of Women Voters of New York State said her group "supports the goal of fully accessible voting for all people, but using uncertified, untested and inaccessible equipment does not bring that goal any closer to being met."
Lee Daghlian, a spokesperson for the Board of Elections, said "nothing is set in stone" and proposals would be further discussed at a commission meeting Thursday.
The move to overhaul the nation's voting machines was spurred by hanging chads and other misadventures in voting from the 2000 presidential election, but the effort has not gone smoothly.
Copyright 2007 The New York Times Company
<![if !supportEmptyParas]> <![endif]>