http://www.wheresthepaper.org/09/TestimonyInNYCHearingShocksAssemblymembers.htm
Reported by Teresa Hommel
October 22, 2009
<![if !supportEmptyParas]> <![endif]>
Testimony in New York City Hearing
Shocks Assemblymembers
<![if !supportEmptyParas]> <![endif]>
"Would Refuse to Certify Electronic Vote Count"
Columbia County Election Commissioner Testifies
<![if !supportEmptyParas]> <![endif]>
"The mandated transition to electronic voting and vote-counting will likely prevent me as commissioner from doing my job, which is to certify to the accuracy of election numbers," testified Virginia Martin, Columbia County Democratic Election Commissioner, in a hearing of the State Assembly's Standing Committee on Election Law on October 22 in New York City.
<![if !supportEmptyParas]> <![endif]>
After Martinís brief statement, dumbfounded assembly members questioned her for half an hour, going so far as to challenge her knowledge of computers and whether her county would support her refusal. She answered calmly, and the audience erupted in applause when she said that counting the votes by hand on election night would be both less expensive and more secure than using an insufficiently-audited computer count.
<![if !supportEmptyParas]> <![endif]>
While Martin praised the State's actions to provide accessibility to voters with disabilities, she said the new computerized voting systems are poorly made and break down often, in contrast to the dependable lever voting systems currently in use.
<![if !supportEmptyParas]> <![endif]>
"If Columbia County starts using software to count votes, I will not certify an election unless an appropriately designed audit of the paper ballots is conducted. So far, the State Board [of Elections] has not mandated an audit that audit experts agree will expose inaccurate counts."
<![if !supportEmptyParas]> <![endif]>
<![if !vml]>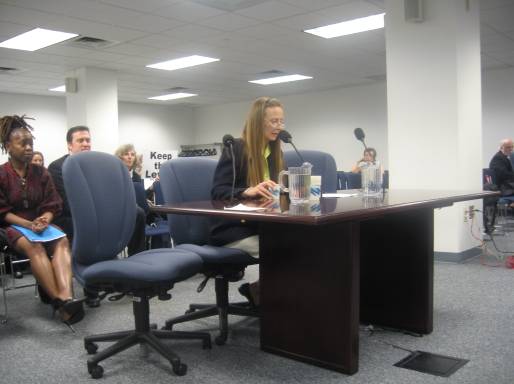 <![endif]>
Commissioner Virginia Martin Testifying (Photo by Russell Branca)
<![if !supportEmptyParas]> <![endif]>
Martin was concerned also with exorbitant costs. "Boards [of Elections] across the state have encountered enormous resistance from their counties when they have tried to get the funds these unfunded mandates would have us incur. I know of two cases in which county budgets have tripled."
<![if !supportEmptyParas]> <![endif]>
The panel was surprised to know that Commissioner Martin has an understanding of how the lever machines work. "I believe itís critically important that commissioners and poll workers across the state understand how the machines work," Martin said. "In the case of lever machines," she added, "itís simple."
<![if !supportEmptyParas]> <![endif]>
Many other witnesses at the hearing criticized the State's move to computer-counted paper ballots. The change is slated to take effect in 2010 as a result of a state law that bans the state's widely-trusted lever voting machines.
<![if !supportEmptyParas]> <![endif]>
Speakers objected to replacing lever voting machines with computers on grounds of cost, accuracy, and dependability. Many in the audience held signs saying "Keep the Levers" and expressed concerns about votes counted in secret and ease of manipulation of election results with computerized systems.